This Is Us. Just The Two Of Us.
Hello Everyone and welcome to Rough & Rigid. Let me begin by introducing myself. I am Brad Easley and this is my wife Dawn. We started this little business in the garage of our home in a small town in Kansas. This started as a hobby for us. I was an Electrician and Dawn was a Human Resource Manager until the day we received a life changing phone call asking us to make a custom fire pit for Patrick Mahomes. Since then our business has exploded and we are now full time business partners of Rough & Rigid.
At Rough & Rigid we strive to provide our customers with a custom made fire pit that is built to stand the test of time. And we hope to provide a space for you and your family and friends to gather and make memories that will last a lifetime. We currently ship anywhere in the U.S.A.
In the fall we also make forever pumpkins and monsters out of old gas cans, milk jugs, toolboxes and more. We take old rusty crusty things and bring them back to life. These items are not available for purchase on our website but please join us on facebook and Instagram. I promise you wont be disappointed.
In our spare time Dawn and I love spending time with our daughters Ashley, Chandley and Emma. We also love to travel and experience all the beauty this world has to offer. Fire Pit nights with our friends and trail riding are some of our favorite things to do.
Last but most important. We hope that after doing business with us you feel like more then just a customer. You are now family, the Rough & Rigid family and we are grateful you are here.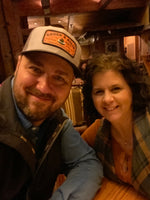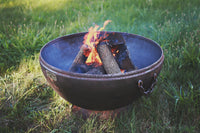 Fire Pits
Quality time with family and friends is gathering around a fire pit, roasting marshmallows and telling stories while creating unforgettable memories.
Our firepits are one of a kind pieces that are created and handcrafted using upcycled materials. These fire pits will last you a lifetime.  Add a fire pit to your backyard and leave your neighbors jealous with envy.
CATALOG
Grill Grate
Adding this accessory to your fire pit will take your party to the next level. These grill grates are custom made to fit the size of your fire pit.The grill grate is made so you can add wood to your fire while cooking. this grill grate will allow you and your guests to enjoy hamburgers, hot dogs and so much more. Throw in your favorite wood for flavor. Last but not least, no party is complete without s'mores!!!
CATALOG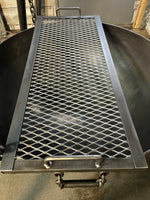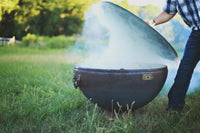 Snuffer Lids
Snuffer lids are a must have accessory for your new fire pit. It is useful for keeping water out of the pit, however, it can also serve as a table top when the fire pit is not being used. The most important function of the lid is to safely snuff out the fire when your party has come to an end. 
CATALOG
Shipping
Shipping Information
Our standard shipping rates are for the lower 48 states however, some locations such as Islands, Mountain Homes and Lake Homes can be considered hard to get to locations by the shipping company. in such cases we will contact you to discuss additional fees.
Testimonials
Highly recommend the custom fire pit. Extreme high quality which will last a lifetime. Brad is an awesome and talented guy. Cheers




Alex Poulter
Used my new fire pit for the first time this weekend and I am so happy that I went with a Rough & Rigid for pit !!! Thank you!!

Margarette Anders Clark
We love our fire pit!! It's a great size for everyone to sit around and keeps the smile up higher. It also warms your feet because the bowl itself gives off heat! We would highly recommend it!

Mallory Gobet
We bought a fire pit in September and absolutely love it!! The Easley's are wonderful business owners and do such great work on all their products!! We will definitely buy again from them and 100% Recommend their small business!!

Erin Drennon
Absolutely love our new fire pit. Just arrived and can't wait to use her!! Excellent quality workmanship and communication! Highly Recommend!!

Christy Gillain Kofoed